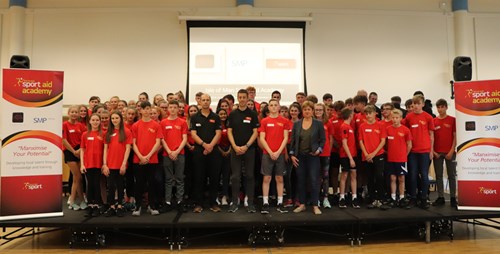 The Isle of Man Sport Aid Academy is launching to once again help young sportspeople develop their skills in a wide variety of specialisms.
The initiative will deliver a full programme of sports education and training to help young sportspeople between the ages of 13 and 16 to enhance the skills they need to succeed on the professional arena.
This is the fifth year of the Academy which was launched in 2015. During this time, over 150 young people have benefitted from the programme which aims to provide skills for life as well as sport.
The Academy, which is being funded by sponsors the SMP Group and Newfield in partnership with Isle of Man Sport, will begin on Friday 27th September and the session will be led by Athlete Development Advisor, Paul Jones. Over 80 young people have been accepted onto the new programme, with 16 different sports being represented across the Academy.
Sessions will take place at St Ninian's Lower School (Bemahague) and parents and coaches are also invited to attend the sessions. The programme will begin with an intense boot camp of four sessions over two weekends (27th – 29th Sept and 4th – 6th Oct), after which there will be a further six sessions from October until April. In addition, there will be a further three physical testing sessions throughout the year.
As part of the event, the Sport Aid Academy are setting up the 2019-21 programme which will run from September 2019 until April 2021, and there will 20 events over this period.
Chris Quine, Sports Performance Co-ordinator for Isle of Man Sport, said: 'I am delighted to be continuing the Sport Aid Academy into its fifth year. Over the years, it has been a privilege to see so many young athletes grow and thrive. Many have even gone on to achieve great success in their chosen sport, which is encouraging to see and we're proud to have helped them on this journey.
The Academy is a lot more than just being about sport. Our specially designed programme teaches young people the key skills of commitment, resilience, respect, and discipline to name a few. These skills are core to not only succeeding in sport, but setting them up for life as well, so it's great to see them engaging with this opportunity and taking steps towards their future.'
He added: 'We couldn't have achieved all of this over the past five years without the ongoing generosity and support from our partners the SMP Group and Newfield. With their backing, we have been able to continue to offer these key opportunities for the island's next generation of athletes, so we cannot thank them enough.'
David Hudson, Group CEO of SMP Group, commented: 'The Sport Aid Academy is a key part of our young sportspeople's development and we are delighted to be able to support this fantastic initiative for its fifth consecutive year.
At SMP, we are always looking for ways to support local ambition and help people achieve their fullest potential, so the Academy is a natural fit for us. The programme is a great way to nurture local talent, and it's a joy to see young people get the support they need to flourish in both their sporting lives and their professional ones.'
Mark Reynolds, Newfield Director, added: 'Over the past five years, it has been great to see how not only the athletes have grown, but how the programme has evolved and developed as well to meet the needs of our island's young sportspeople. Every year they get such great engagement and turnout for the workshops, so we're really proud to play a part in such a valuable initiative.
Without programmes like the Sport Aid Academy, some young people may not have the opportunity to reach the top of their game or learn the vital skills they need to succeed, so we are proud to be associated with a programme such as this.'
The Academy's first workshop, which will focus on the relationship between Athletes, Parents, and Coaches, takes place on Friday 27th September, with a further boot camp session on Sunday 29th.