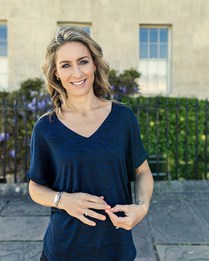 Olympic champion Amy Williams MBE will be welcomed as the guest of honour at the 2019 Isle of Man Sports Awards on 2 April.
At the Winter Games in 2010, Amy became Britain's first ever woman skeleton gold medallist, and the first British woman in 58 years to claim individual gold medals.
The 37-year-old started out as a track athlete before taking the opportunity to try out the newly-installed bobsleigh and skeleton push-start training facility at Bath University in 2002. Wanting a chance to represent GB in an Olympic sport, she accepted an invitation to join the British Skeleton development programme and went on to claim Olympic gold in 2010.
Following her retirement from sport in 2012, Amy became an Ambassador for the British Olympic Association and turned her talents to television work, including Ski-Sunday and ITV4's coverage of the Classic TT alongside Steve Parrish and Steve Plater, so she is no stranger to our shores and is looking forward to coming back to the Island.
Amy said:
'I am hugely honoured to be invited as the guest of honour for the Isle of Man Sports Awards. I'm really looking forward to celebrating all the sporting successes and can't wait to head back to the Island again after visiting in 2018 and 2019 for the TT Classic.'
Graham Cregeen MHK, Minister for Education, Sport and Culture, said:
'In recent years, Isle of Man Sport has supported athletes including Zoe Gillings-Brier and Brandon Cain to follow their winter Olympic dreams and we have more talent on our radar. I am sure Amy's sporting journey will be inspirational to those looking to join the Isle of Man Sport Aid Academy programme in the future.'
Sponsored by Microgaming PlayItForward, the 2019 Isle of Man Sports Awards is the highlight of the sporting calendar, and will celebrate the success stories, achieved by the Island's sportsmen and women.
Kate Moughtin, Senior CSR Manager at Microgaming, commented:
'Microgaming PlayItForward are thrilled to sponsor the 2019 Isle of Man Sports Awards. Congratulations to all nominees – these awards are a celebration of your incredible hard work and dedication over the past year. I know from working with our amazing PlayItForward volunteers at sports events throughout the year how important it is for local talent to have a strong support network, so in my eyes these awards are as much a tribute to your coaches, teams, families, and friends. Well done to all!'
Gary Corkhill, Executive Chairman of Isle of Man Sport, said:
'We have managed to once again secure the services of someone, who has reached the very top in her chosen sport. Amy will no doubt be a very interesting and inspiring guest.'